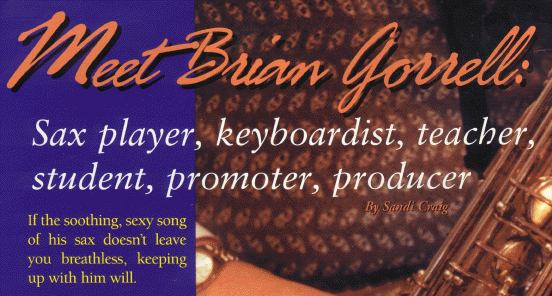 - written by Sandi Craig

When he's not belting out tunes on his saxophone, playing solos with groups like The Manhatten Transfer - in town recently jazzing it up with the Oklahoma City Philharmonic - The "Brian Gorrell & Jazz Company" band is playing high-profile gigs all over town, including the recent opening of the Southwestern Bell Bricktown Ballpark.

He is a large, imposing man but exuberant and energetic, dripping enthusiasm and talent about his music and career. Gorrell, a master of the saxophone and keyboards, is busy recording tracks in his studio for his new CD, "Soulmates", to be released in 1999. If that's not enough, he also teaches saxophone and jazz studies at Oklahoma City University, records, mixes and produces music for other artists, and recently completed a master's degree in instrumental performance from Oklahoma City University!

But, it was his proficiency on keyboards that launched his high profile career with the Lawrence Welk Orchestra in 1994. After completion of their new theatre and resort in Branson, Missouri, the Lawrence Welk Group put together a new orchestra.

"They had some difficulty finding musicians willing to move to Branson from L.A. to play in the new orchestra," Gorrell said. "I found out the name of the person to call and he said all of the (saxophone) spots were filled. He said 'Too bad you don't play piano.' I said I did and was asked to send an audition tape."

Unfortunately, Gorrell said he had nothing recorded on the piano, and he didn't think he had a chance of getting the spot against national competition. Nevertheless, for the next two weeks he practiced and recorded a demo and it paid off.

"I dropped out of school and took the job. I played on the very first show -- The New Lawrence Welk Show."

The orchestra played second banana to The Lennon Sisters. They were the big attraction and one of his personal favorites.

"Many women remember having their mothers curl their hair on Saturday nights for church the next morning and watching the Lennon Sisters on the Lawrence Welk Show," Gorrell said.

"The musicians were incredible to work with and so was the experience," Gorrell said, but he left the show in 1995 because of his desire to return to Oklahoma City and pursue his original music, and also to finish his education.

He is nothing, if not ambitious. By day, he said he's doing his best to keep jazz alive, inspiring talented, budding musicians to continue in the tradition of greats like Count Basie, Duke Ellington, and Woody Herman, as well as saxophonists like David Sanborn, Charlie Parker and John Coltrane. At night, he jams with other musicians around town and keeps up with the demanding schedule of his own band.

He began the long road of his musical career at age 9 with piano lessons taught by his dad, followed by saxophone lessons at age 12. Even then he loved performing for an audience and began developing his individual style. Gorrell's talent was recognized as a junior in high school, when he began playing in a local college jazz band.

"My first professional job where I really got paid was at age 16 with the Peter Krauss Orchestra. Prior to that I played in a lot of little bands - little rock gigs. I had a garage band in high school called 'Soul Doubt' that made a lot of noise in my parents garage and the whole neighberhood heard us," Gorrell said.

After high school, he enrolled in the jazz program at UCO (University of Central Oklahoma), learned how to - and then played -the clarinet in Dixieland bands, and met longtime friend bassist Phil Mitchell, another UCO student. They played gigs around town together including Tomasso's Little Apple Jazz Club, one of the hottest spots in the city, around 1990.

"I worked with keyboardist Charlie Gigliotti and we became the house band at Tomasso's. The owner was bringing a lot of national jazz acts to the city around that time. We heard a lot of famous jazz artists come through that club. So that was probably one of my first big jazz gigs in the city where people started recognizing me," Gorrell said.

Two of his early influences on the saxophone were David Sanborn and Charlie Parker.

"Those two are stylistically very different as far as influences (go). As I got more into jazz, I listened to Charlie Parker, who was one of the originators of be-bop music," Gorrell said. "I have always listened to a wide variety of music. In the art of playing jazz music, everyone has to go though a routine of listening and assimilating all of the styles of the music."

According to Gorrell, every competent jazz player has influences that date back to the '30s and '40s. Thus music is built on the tradition that began with early Dixieland jazz - the be-bop music in the '40s, the Miles Davis era in the '50s, etc.

"All the musical roots in American music are related to Rhythm & Blues and Jazz - 90 percent of every rock and roll song written in the 1950s was based on simple blues progressions. Elvis Presley songs were mostly three-chord blues that Muddy Waters and many others had played decades before that," Gorrell said.

Consequently, Gorrell said he can teach theory, i.e., the mechanical part of jazz, but the stylistic part is more difficult. He compared the various articulations in jazz styles to language dialects, e.g., Parisians and Canadians both speak French but with different accents.

"It's different from classical music, where you learn the majority of the music from the paper. It's a very oral tradition, so everybody owns many albums and spends a lot of time listening. All the great jazz players go back and listen to their predecessors," he said.

In the early 1990s, Gorrell played with The Burton Band. one of the oldest and most popular bands in the city, and he said guitarist-singer Charles Burton had a great influence on his style. He left that group in 1993 to join a new band called The Electric Church Funk Band.

"I remember we played a gig at Sipango's and made 86 cents for the night! I went from making good money (with the Burton Band) to primarily just playing for the sake of the music. I played with Electric Church for seven months. We won an award as the best local band (Funk/Soul - Gazette Music Awards). We had a good shot at making it big with that group," Gorrell said. Unfortunately the band broke up because several of the members, including Gorrell, were being pulled in different directions musically.

The diverse combination of the Burton Band and Electric Church has influenced his style tremendously, he said.

"My style is traditional and contemporary - it goes back to those early influences. My original music is mostly contemporary jazz - with a blend of urban contemporary rhythms mixed with traditional jazz. That makes the music sound unique," Gorrell said.

Last year he set up his own recording studio, Brimick Audio Productions, in a spare room of his home. His intention was to work on his own music, but the local demand for a recording facility that provided production assistance without additional fees has thrust him into the role of producer for other aspiring artists.

Meanwhile, Gorrell is making plans to introduce Oklahoma City's only jazz record label "Brimick Records" to the public in the future by means of a sampler CD which will feature 5 or 6 local artists, including himself, Mitchell, Lee Rucker, John Moak, Ted Malave, and posssibly several others.

Phil Mitchell, along with help from Gorrell, formed the "P-Light Society Jazz Artists Development Association" as a way to help promote local jazz artists and to encourage educational activities that teach about the art of improvisation. The problem with the jazz scene in Oklahoma City is not the lack of great players but the lack of places for musicians to play - the venue.

"There is currently not really a place in Oklahoma City that we can truly call a jazz club, but OKC could support a jazz club" Gorrell said. "I think Bricktown would be a great location. I would play for some of the other jazz artists and would be willing to do almost anything to help support a venue such as this."

And, speaking of venues, Gorrell said he has played at hundreds of different venues, but surely the most unusual was his own wedding where he played "The Dream," composed by David Sanborn. Needless to say, Gorrell is passionate about his profession!

---
Back to the All About Brian Page!