The Edmond Jazz Orchestra is Oklahoma City's premier "little" big band!
This octet features some of Oklahoma's most talented musicians! The band's diverse
musical background lays the groundwork for a truly versatile & exciting ensemble that
can perform for any special event!

Our book has hundreds of exceptional arrangements in virtually every style of music!
Although only 8 pieces, this band can sound like a full 16 piece big band!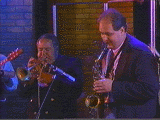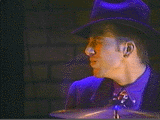 YOU CAN HAVE THE BIG BAND SOUND WITHOUT THE BIG BAND PRICE TAG!
YOU CAN HIRE THIS BAND FOR LESS MONEY THAN SOME LOCAL D.J.'S CHARGE!
NOTHING CAN BEAT THE ATMOSPHERE, ELEGANCE, AND SOUND OF LIVE MUSIC!

---
(Sorry for these old RealAudio files)
IN THE MOOD (RealAudio)
THE FASCINATION WALTZ (RealAudio)
SPINNING WHEEL (RealAudio)
AS LONG AS I'M SINGING MY SONG (RealAudio)
SING SING SING (RealAudio)

---
Give us a call for more information!

BRIAN GORRELL ENTERTAINMENT
(405) 245-9965